Love Hopes All Things
Part I
By Paul Snyder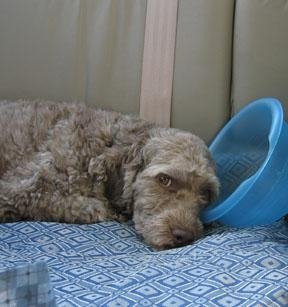 Meet Dexter. He is probably one of the most spoiled creatures alive today. But it wasn't always that way. You see, Dexter was adopted. Before he came to live with Angie and me his former family kicked and beat him severely (besides nearly starving him to death). Thankfully, he ended up in an animal shelter when his previous owners were evicted from their apartment. Dexter had been at the shelter for more than a month when we found him, but he had been in traumatic confinement for two years under the extreme cruelty of his abusers. In dog years, that's like a fourteen-year sentence to a labor camp.
Needless to say, it took us a very long time to gain Dexter's trust. We learned to let him initiate any affection, because the moment you'd reach out to pet him he would cower in terror and urinate from nervousness on the spot. One particular episode is emblazoned in my memory. It was after we had taken much ground in proving our good intentions toward him. Dexter was resting peacefully in the study on the other side of the French doors. I was in the next room exercising. When I began to jump rope I heard a tremendous raucous through the glass doors. Dexter was violently whimpering and leaping hard against the closed wooden door to the central hallway, frantically trying to escape and urinating all the while. His whimper was disturbing, much akin to a scream for help.
It took me a few seconds to realize he was terrified of the rope…and of me for holding it. In his mind it was not a rope, but a whip. My heart broke to think of what Dexter must have gone through to react in such a way as this. Notwithstanding my compassion, he avoided me like the plague for days until he finally understood I wasn't out to harm him.
Just as my heart broke for Dexter in light of his reaction to the jump rope, my heart breaks to hear the reaction of so many Christians against their own brothers and sisters who, along with Glenn Beck, stood up for godly values in Washington D.C. at the Divine Destiny and Restoring Honor events. Like Dexter, it seems they have mistaken one thing for another, and have reacted in accordance with the misconception.
But before I delve any further into the "speck" of their reactionary uproar, please allow me to shine a light on the "beam" in my own eye.
Unlike Dexter, I can't claim the excuse of "wounded animal" when I react to situations in offense and fear. For instance, I am blessed with an incredible marriage to an amazing woman. My wife and I fall more in love with each other all the time. But just this morning we had one of those quarrels that will occasionally arise between lovers because of mutual misunderstanding. You know the kind I'm talking about: where harmless statements are taken as cruel lashes.
After the argument, deep conviction came over us as we read this passage in the Bible:
"Love meekly and patiently bears ill treatment from others. Love is kind, gentle, benign, pervading and penetrating the whole nature, mellowing all which would have been harsh and austere; is not envious. …does not act unbecomingly, does not seek after the things which are its own, is not irritated, provoked, exasperated, aroused to anger, does not take into account the evil [which it suffers], does not rejoice at the iniquity but rejoices with the truth, endures all things, believes all things, hopes all things, bears up under all things, not losing heart or courage." – 1 Corinthians 13:4-7
Have you ever read a convicting passage and questioned if you're really saved? If any passage will do that for me, it's this one. More than any other, this scripture shows how far I fall short of the glory—the nature and character—of God. He is Love and I am not. But the good news is that He produces this love in me as I yield to the Holy Spirit and abide in Christ! "Walk in the Spirit and you will not fulfill the lust of the flesh" (Galatians 5:16). Christ in us is the hope of glory (Colossians 1:27).
Made in God's image, mankind has never attained to the perfection of His character. Christ is the goal, the standard—the norm—of what a true child of God should be. He is Love. He is Life. He is Truth (the real McCoy). Obviously, this is impossible for mere mortals like you and me. But with God all things are possible. Who, on earth, does not fall short of His standard (of His glory)? He has made the way for us to be perfected in His image by spiritual regeneration: those who have the Son have the Life, the Love and the Truth, merely by way of grace through faith in Him.
Believers are earthen vessels filled with unsearchable Treasure, called to be water pots—unpolluted wells of His Life—being poured out as sacrifices of praise; blessing those who curse us, praying for our enemies; giving selflessly and loving to the point of death if need be. And all thanks to the grace of God richly supplied to us, if we will but draw on the Treasure within.
Nevertheless, I often find myself sailing along in life on the winds of my own strength, taking whichever heading seems best to me, ignoring the Captain. It is not until a tempest comes that my skills as a true sailor are tested and found to be insufficient to master the storm. It is usually then that I repent and yield control back to the rightful Guide of the craft. What would the world be like if we all, as believers, placed our vessels irrevocably under the Captain's control?