We Make Private, Christ-Centered Higher Education Truly Affordable Because…
We firmly believe that as a young Christian you should not be denied a Christ-centered education (Col. 2:6-8) because it is too expensive.  We work very hard at Ecclesia to bring down your tuition and fees while never sacrificing the quality of your education.  Checkout the graphic below to learn how much our financial aid packages, along with our generous subsidy and earned scholarships and unique Work Learning Program, significantly reduce your tuition and fees.
Click here to view our current Pricing Policy. (Tuition & Fees subject to change.)
Last year, 100% of our students received some form of financial aid.  Click one of these links to view Financial Aid Scenarios for Arkansas Students, Out of State Students, and International Students.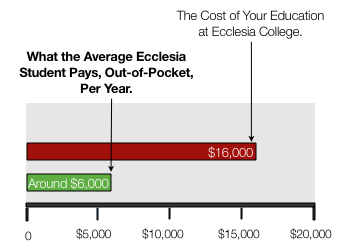 Though Ecclesia College is a private institution, we are committed to offering higher education at prices comparable to those of public colleges and universities because we care about your future…Both professional and spiritual.
Because of this resolution, many Christians of like-vision, including our staff, faculty and donors have made great sacrifices to make it possible for us to offer a variety of scholarships and financial aid packages for qualifying students.  Last year, 100% of our students received some form of financial aid. Please contact our Admissions Office at 479.248.7236 for further information regarding quality, private Christian higher education at a very affordable cost.
3 Ways Your Tuition is Cut at Ecclesia College
Because of EC's deep commitment to students, price is no longer the deciding factor! The combination of our own EC scholarship, Work Learning, and Financial Aid (federal, state and/or private) makes it possible for us to cut your tuition by an average of over $4,500 per semester.
While the average low-cost state school student spends $3,711 per semester for ROOM & BOARD ONLY, most 
EC full-time, on campus students' out-of-pocket costs average less than $3,000 TOTAL per semester!
Scholarship Deadlines
Ecclesia College need-based and merit-based scholarships are still available for the upcoming academic year.
Please contact our Admissions Department with any questions.