Ecclesia College Scholarships
Ecclesia College has abandoned "old school" limitations.  While higher education prices sky-rocket all over the nation, this unique private institution makes a high-quality, Christian education accessible to all qualifying students.
We Care About You!
EC consistently offers a subsidy, as well as partial to full scholarships to 100% of its student body while maintaining rigorous academic and work learning programs.  Click these links to view Financial Aid Scenarios for Arkansas Students, Out of State Students, and International Students.   And check out Fast Web to find additional scholarship opportunities: http://www.fastweb.com/?utm_source=fw_schools.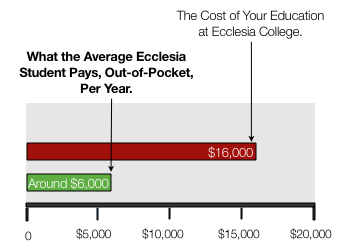 Ecclesia College Performance-Based Scholarships are granted and maintained by acceptance into Official Ecclesia Representation activities (choir, sports, supportive roles, etc.), a 2.5 grade point average, official College events and class attendance, church attendance, and faithful adherence to the Ecclesia Honor Code and Student Handbook.  Call 479.248.7236 Ext. 223 or email Admissions to find out how to get your scholarship!